Oric 1 and Atmos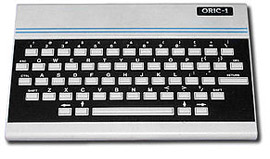 Oric was the name used by Tangerine Computer Systems for a series of home computers, including the original Oric-1, its successor the Oric Atmos and the later Oric Stratos/IQ164 and Oric Telestrat models (model names stylized in upper case).
With the success of the Sinclair ZX Spectrum, Tangerine's backers had suggested a home computer and Tangerine formed Oric Products International Ltd to develop and release the Oric-1 in 1983. Further computers in the Oric range were released through to 1987 with Eastern European clones being produced into the 1990s.
Minimum Oric 1 RAM requirement is shown in listings. Cassettes are single jewel cases unless otherwise stated.
Need more information on condition? Just contact us or use our chat facility below (if we are available).