CPC464 6128 Cassette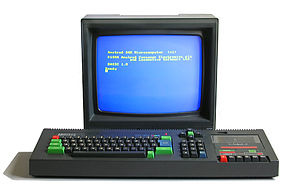 The Amstrad CPC (short for Colour Personal Computer) is a series of 8-bit home computers produced by Amstrad between 1984 and 1990. It was designed to compete in the mid-1980s home computer market dominated by the Commodore 64 and the Sinclair ZX Spectrum, where it successfully established itself primarily in the United Kingdom, France, Spain, and the German-speaking parts of Europe.
The series spawned a total of six distinct models: The CPC464, CPC664, and CPC6128 were highly successful competitors in the European home computer market. The later plus models, 464plus and 6128plus, efforts to prolong the system's lifecycle with hardware updates, were considerably less successful, as was the attempt to repackage the plus hardware into a game console as the GX4000.
Cassettes are single jewel cases unless otherwise stated.
Need more information on condition? Just contact us or use our chat facility below (if we are available).